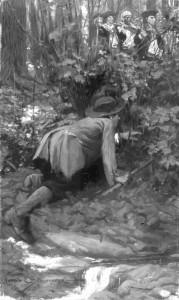 1
Nearer and Nearer They Approached

FES Title:
Nearer and nearer they approached
Alternate Titles:
Illustrations in black and white oil, illustrating a book entitled "A Jersey Boy in the Revolution," published by messrs. Houghton, Mifflin & Company, and loaned to the Exhibition by the courtesy of the publishers. [1899]
Date:
08/11/1899
Size:
13″H x 7.75″W
Medium:
Type:
illustration
Published:
Tomlinson, Everett T. A Jersey Boy in the Revolution. Boston: Houghton, Mifflin and Company, 1899: 108.
caption: Nearer and nearer came the men
Inscription:
ll: Frank E. Schoonover
Annotations:
en verso in black ink: Schoonover's title "Nearer and Nearer they approached";
en verso on note glued to board: FES #1 / Illustration for Mr. Harry Groll / interested in purchase / Illustration for "A Jersey Boy in the Revolution" / Page 107 – "Nearer and nearer – came the men" / Aug- 1899 / Chadds Ford / By / Frank E. Schoonover / 302 W. State St. / Trenton, NJ;
en verso on a card kept with the painting: "Painted at the 'Old Mill' at Chadds Ford, Pa / August – 1899 / Howard Pyle / Instructor / From notebook No 1. / Cost of models – 25. / Check from Houghton Mifflin of Boston – [$]100 less cost 25 – $75. / With this amount (75.00) made a trip in Canada – north towards Hudson Bay."
Exhibitions:
1899 Drexel Summer
Comments:
TP Texas: 6/06; form 6-04-06; index; edit 11/06; added date for Sugg in Prov. [5/2014]
Commentary:
Frank Schoonover's first commission was given to him by his teacher and mentor, Howard Pyle, who arranged for him to render a series of four black and white oils for the book, A Jersey Boy in the Revolution. This painting was the first one in the book and the first one for which he was paid as an illustrator.
To commemorate that event, the artist began his celebrated 'day books.' "I really don't know why I started to number my pictures. It is so unusual for an artist to have a system of any sort, that it seems strange to me indeed to realize not that at Chadds Ford, Pa., on August 7, 1899, I started a sort of daybook, but that each illustration of any importance since that time has had its number and its entry…This little daybook is before me now. Turning back I find it says that drawing number one was made for a book by Everett T. Tomlinson." (Schoonover, Frank E. "Bringing the Outdoors In." American Boy Magazine, March 1921, 10)
Provenance:
Artist; Houghton, Mifflin & Company, Boston (1899 exhibition); Somerville Manning Gallery, Wilmington, Delaware; Collection of Suzanne and Joel Sugg (April 18, 1999).