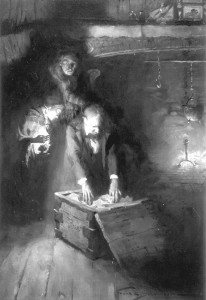 7
Peter Goldthwaite's Treasure

FES Title:

Peter Goldthwaite's treasure

Alternate Titles:

Date:

06/08/1900

Size:

20″H x 14″W

Medium:

Type:

illustration

Published:

Hawthorne, Nathaniel. Twice Told Tales, Vol. 2. Boston: Houghton Mifflin, 1900: facing 236.
caption: Old Peter Goldthwaite's hoard of old ragsHawthorne, Nathaniel. Selected Tales. Franklin Center, PA: The Franklin Library, 1982: 295.
no caption

Inscription:

lr: Frank E. Schoonover

Annotations:

en verso: Illustration for "Twice Told Tales" /(Peter Goldthwaite's Treasure) / Page 452 The Opening of the Chest / by Frank E. Schoonover.
en verso on upper stretcher: Drexel Institute painted 1900
en verso on frame: framed by C.M. Allmond III, 12/25/67
en verso on left side stretcher: Hawthorne

Exhibitions:

Comments:

TP 9/9/04; form 9/15/04; index; edi; added all new prov [5-2014]

Commentary:

Provenance:

Sold by artist to private collection; given to private collection.