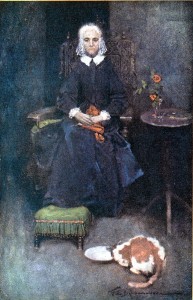 193
A Stately Old Lady Was Sitting Straight and Stiff

FES Title:

[no title entered in day books]

Alternate Titles:

Lady in Black-1980

Date:

11/25/1903

Size:

22 x 14

Medium:

oil on canvas

Type:

illustration

Published:

Glasgow, Ellen. The Deliverance: A Romance of the Virginia Tobacco Fields. New York: Doubleday Page & Co., 1904: 52.
caption: In a massive Elizabethan chair of blackened oak a stately old lady was sitting straight and stiff

Howard Pyle: A Teacher, The Formal Years. Chadds Ford, PA: The Brandywine Conservancy, 1980: np.
no caption.

Inscription:

lr: F. E. Schoonover

Annotations:

Exhibitions:

1980 BRM (catalog)

Comments:

index; edit

Commentary:

Provenance:

Patricia Downes (1980 BRM); Images Gallery (c. 1885, Minneapolis, MN); private collection.