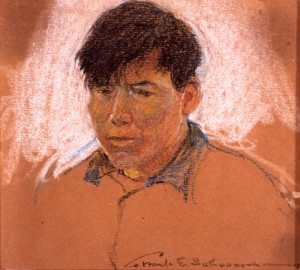 211
Head of Tommo

FES Title:

Head of Tommo

Alternate Titles:

Esqimaux Breed [1911]

Date:

01/1904

Size:

4.75″H x 5.25″W

Medium:

Type:

portrait

Published:

Inscription:

lm: Frank E. Schoonover

Annotations:

Exhibitions:

1911 PAFA


Comments:

TP 3/31/06; index; edit
check prov.

Commentary:

"Then with Tommo's consent, I set about making a sketch. From the outside, the Indians peeped into the tent, crowding about and watching me as I worked. When I finished the drawing, I presented the woman (Tommo's wife) with the likeness of her chief: she took it, looked at it, shrieked and laughed, and shrieked and shrieked again." (trip diary) The size given is the view. See #194 for further commentary.

Provenance:

Lockwood Family Collection, Cincinnati, Ohio; Connie Lockwood Collection and Schoonover Studios, Ltd.