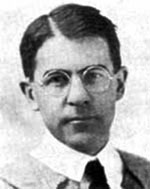 Frank Earle Schoonover (August 19, 1877 – September 1, 1972)
Born in Oxford, New Jersey, Schoonover studied under Howard Pyle at the Drexel Institute in Philadelphia and became part of what would be known as the Brandywine School. A prolific contributor to books and magazines during the early twentieth century, the so-called "Golden Age of Illustration", he illustrated stories as diverse as Clarence Mulford's Hopalong Cassidy stories and Edgar Rice Burroughs's A Princess of Mars. In 1918 and 1919, he produced a series of paintings along with Gayle Porter Hoskins illustrating the American forces in the First World War for a series of souvenir prints published in the Ladies Home Journal. Schoonover helped to organize what is now the Delaware Art Museum and was chairman of the fundraising committee charged with acquiring works by Howard Pyle. In his later years he restored paintings including some by Pyle and turned to easel paintings of the Brandywine and Delaware landscapes. He also gave art lessons, established a small art school in his studio, designed stain glass windows, and dabbled in science fiction art (illustrating Edgar Rice Burroughs' A Princess of Mars), he was known locally as the "Dean of Delaware Artists." Schoonover died at 94, leaving behind more than three thousand illustrations.
EXHIBITION: Frank E. Schoonover: American Visions
November 10, 2018 through May 27, 2019
Frank E. Schoonover's (1877-1972) legendary adventure paintings were inspired by the belief that artists should live what they paint—an adage often repeated by his noted teacher, illustrator Howard Pyle, and absorbed by his fellow student and friend, N.C. Wyeth. This exhibition will explore the breadth of this important Golden Age artist's career, beginning with Schoonover's art school experiences as a student in Pyle's classes at the newly founded Drexel Institute of Art, Science, and Industry in Philadelphia, beginning in 1896, and his time at the Chadds Ford Summer School in 1899, where he honed his skills among other gifted Pyle pupils. The artist's historical book illustrations and dramatically staged adventure paintings will illuminate the depth of his own wanderlust. Schoonover made daring excursions to Canada and Alaska—during one such trip, in 1903, he traveled 1,200 miles almost entirely by snowshoe, dogsled, and canoe.