Welcome to the Frank E. Schoonover Website. You are welcome to search through the content of over 3200 database entries on the catalogue of work of Frank E. Schoonover, the Catalogue Raisonne.
We are pleased to announce that The Frank E. Schoonover Catalogue Raisonne has been printed and is for sale.   It can be ordered online at OakKnoll.com, at the book stores in the Delaware Art Museum and the Brandywine River Museum, at amazon.com, or by calling 1-800-996-2556.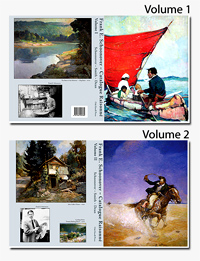 This publication encompasses all of the known works of artist and illustrator, Frank E. Schoonover. Thanks to his remarkable daybooks, which record over 2500 entries,  important information about his entire ouvre is available. All documentation updates to the book will be added to this website.