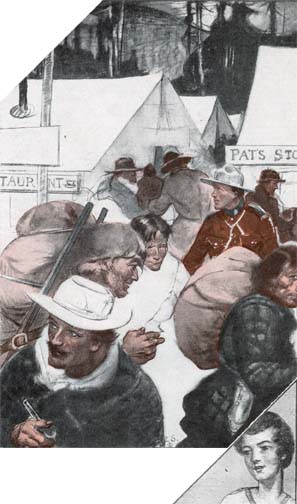 2285
Connie Went Down to the Village of Tents That Had Sprung Up at the Elbow

FES Title:

Connie went down to the village of tents that had sprung up at the elbow.

Alternate Titles:

Mounties in Gold Rush (Glenbow)

Date:

03/15/1941

Size:

28″H x 19.25″W

Medium:

Type:

illustration

Published:

Hendryx, James B. "Connie Morgan Takes a Hand." The American Boy–Youth's Companion, May 1941: 11.
caption: In the excited new camp, stood a man in the uniform of the Mounted Police


Inscription:

lm: F.E.S. / '41

Annotations:

Exhibitions:

Comments:

Glenbow #R364.2; seen 8/03 [digital image]; Form 8/21/03; index
[verso not accessible]

Commentary:

The artist named the store named after his son, Pat. The triangular portion in lower right corner is part of the spot of a girl's head which was in the original, published work.

Provenance:

Artist; Helen L. Card, Latendorf Bookshop, New York; The Devonian Foundation, Calgary, Alberta, Canada (October 8, 1968); Collection of Glenbow Museum, Calgary, Alberta, Canada [1979].