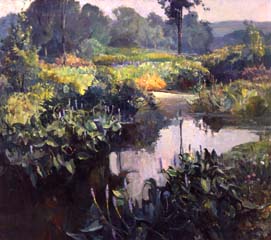 2321
Charm of the Marsh

FES Title:

Charm of the Marsh

Alternate Titles:

The Charm of the Marshes (1943, 1944)

Date:

08/1943

Size:

28″H x 32″W

Medium:

Type:

landscape

Published:

Inscription:

lr: Frank E. Schoonover 1943

Annotations:

en verso: 2321 / Bushkill 1943 / Charm of the Marsh / A turtle on the log / 2087

Exhibitions:

1943 WSFA; 1943 O'Tooles; 1944 Artists for Victory; 1944 De River Artists


Comments:

TP 3/31/06; index; form 4-07; painted over #2087

Commentary:

Information for this painting is found in two separate places in day book, first as the entry with the daybook number and second on a list of paintings Schoonover placed for sale in O'Tooles, a restaurant in Wilmington, Delaware, on December 15th, 1943.
It is thought that this landscape is painted over #2087 which is indicated by the number en verso.

Provenance:

Sold by artist to Corinne Williams; Joseph Tripetti, Cincinnati, Ohio; Robert B. and Margaret T. Mayo Trust [2006]; Nathan Hayward Collection [2012].