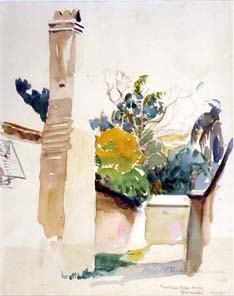 2071
Feather Bed Alley, Bermuda

FES Title:

[pages missing from day books – assigned number]

Alternate Titles:

Date:

01/02/1935

Size:

9.75″H x 7.625″W

Medium:

Type:

easel painting

Published:

Inscription:

lr: Frank E. Schoonover / Feather Bed Alley / Bermuda 1/2/35

Annotations:

Exhibitions:

Comments:

index; Ber1->2071; edit

Commentary:

Schoonover made a trip to Bermuda in January 1935 and painted six known watercolor works showing the local color of the area. The series is comprised of this one and #2071a-71e.

Provenance:

Artist's estate; descended in family to private collection.